KJL Amps Reviews
Testimony From Customers!
Got the amp today. It arrived safe and sound - . . . .Just got finished playing it and I am absolutely astounded by the way it it has been upgraded. It sounds like a brand new amp. I always liked it, but over the years I felt it was a bit tamer than it should be. Not anymore. It's articulate and gritty like an old-school amp. And I'm definitely old school (typically Hiwatts/Oranges for me). You have accomplished something special. Thank you so much - it was worth the wait. Surely I must owe you something for this. Thank you again. I will wear the t-shirt proudly. . . . . The job you did was outstanding.
Ed P.
Louden, TN
---
Kenny the amp is sensational. I cannot thank you enough for the bright boost up-grade, and all the other tweaking and tuning you did. In class "A" the amp is wonderful, thick with a gorgeous harmonically rich high end. So nuanced and beautiful. It will scream, too. In class "AB", wow, huge power and Fender clean, and with bit of drive from the gain knob, it's blues central. I love it. I can't ask for more in an amp: no need for any pedals, it's got headroom, gain and clean Vox-y chime for days. And all the while it is itself, not a clone of anything. Thank you so much for the customer service. I know you pride yourself on it, but this mod was more than I'd ever expected.
Sean Cronin
Guitarist with Glory Days and the Torpedoes
---
---
I've played a lot of amps and from a player stand point the amp is fantastic. Fargen, Dr Z and Budda amps are up there but the size of these companies has taken a huge toll on their product. I think your customer service and ease of contact has to work for you. . . . It really is a GREAT amp. Are you selling many? I can't believe they haven't caught on in a big way. After your VG blurb etc...
Rhys Williams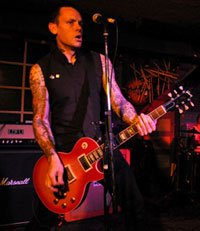 ---
Kenny!!!!
Hi, you built me a Dirty 30 last year. I am loving it, sounds like GOD with my vintage marshal 4x12!!!! Anyway I want to know how much a Clubowner Cabinet will run me...
Let me know
Thanks!!
Tony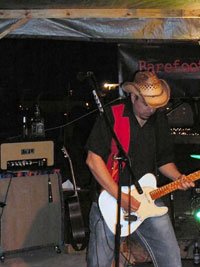 ---
Hello,
I recently picked up a "Dirty 30" head at my local music shop for $600. It was used but in wonderful condition and it sounds AMAZING/HUGE through my vintage Marshall 4x10 cab ! .....Being the nosey guy I am, I opened up the chassis to have a peak inside and was happily surprized at the workmanship.......Your amps are probably the most robust amps I have ever laid eyes on. The word "overbuilt" comes to mind. I have owned amps from Top Hat, Mesa Boogie, Bogner, Soldano, Fender, Marshall, Vox, Peavey, Budda, Fargen, Fuchs,Bedrock and a few others and your build quality is, in my opinion, better quality than any of those. It is so nice to be able to buy an amp with that kind of quality at a VERY reasonable price !!!! Anyway......I am wanting/needing a 1x12 combo to be my "grab & go" amp for local blues jams and have looked at many and after seeing and playing through my "Dirty 30" I WANT A COMBO BUILT BY YOU ! Can you give me a little direction and suggestion and some info. Here's my requirements: * roughly 10- 20 watts of power * 1x12 combo (roughly the size of a Fender deluxe) to keep it portable * simple "plug in and play" amp with controls for Bass, Mid, Treble and gain with a Master Volume control) a presence or "bright" switch would be nice too. * No effect loop (I HATE'EM !) * I like EL34, KT88 and 6l6 tubes for the power section but I will definately listen to any suggestions that may have. I do not care for 6v6 tubes though.....too muddy when pushed IMHO. This kinda gives you a good general idea of what I'm after. I play Gibson les Pauls and SG's exclusively so maybe you can build/tweak it to sound best with these guitars. I am looking for that "Live at the Filmore East" tone in a portable package. I realize it won't be exact but I want to give you an idea of my tonal preferences. I am a blues/rock player and I love that "Marshally" grind that your amps have. I look forward to hearing back from you soon. Please give me a suggested build price and deposit info too !"
Sincerely, Brian R. Stallard
---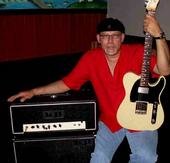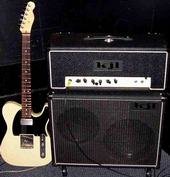 Hi Kenny!
I hope this note finds you well! Just wanted to drop a line and send a couple of pictures of me and my favorite amp over to you. I was one of the last people to get a Dirty 30 directly from you, many years ago. I actually picked up another one from a high end music store in Minneapolis, along with a Clubowner cab. My 2nd one is loaded with KT88's, and is just a spectacular amp. The cab is simply the best I've ever had.
Here's a good testament to your build quality:
I went through some personal stuff around 3 years ago, and my number one D-30 had to go into storage. Non-climate controlled, it sat for over 2 years. Temps below zero, over 100 degrees. When I finally got to pick it up, I was worried that it would have been ruined.
Nope.
Took it to my amp tech for the once over before I fired it up. Not a single issue other than the dust. :-) He was amazed by the build quality.
I replaced the tubes to be safe. And the damn thing sounded just as great as the day I got it from you.
Kenny, I was thinking of you during the Katrina tragedy - I hope all is well with you ... I'm so proud to be a user of your amps, and I preach to anyone within earshot about how much I love them. Two Dirty 30's, in stereo? Heaven ...
My current band is called 'Blue Light District', and we're based out of Richmond VA. -
I would be honored if you could somehow add my photo to your website and put me down as one of your biggest supporters. I can't speak highly enough about your amps, or thank you enough for making it possible for me to get the best tone I've ever had, after over 20 years of seaching.
Take Care, Hope to speak with you soon!
Geo Jacopec
Blue Light District
---
I picked one up!
Great amp. Any power tubes you prefer? Mine has Ruby's in it..
It's turning into my workhorse amp.
Is there supposed to be a 12AT7 in V1?
Thanks again for making a killer amp!
It actually sounds like my Matchless Clubman.. I like the Dirty 30 better.
....Eric
---
THERE ARE NO CONNECTORS IN A KJL!! ALL CONNECTIONS ARE SOLDERED AND ALL CIRCUIT BOARDS ARE DOUBLE-SIDED MILITARY TYPE
(you'll find these in the Space Shuttle, Laser-guided bombs, jet fighters, etc.)
"Again-there are no connectors in a KJL. All connections are soldered/taped (or heat shrunk) and tie wrapped off"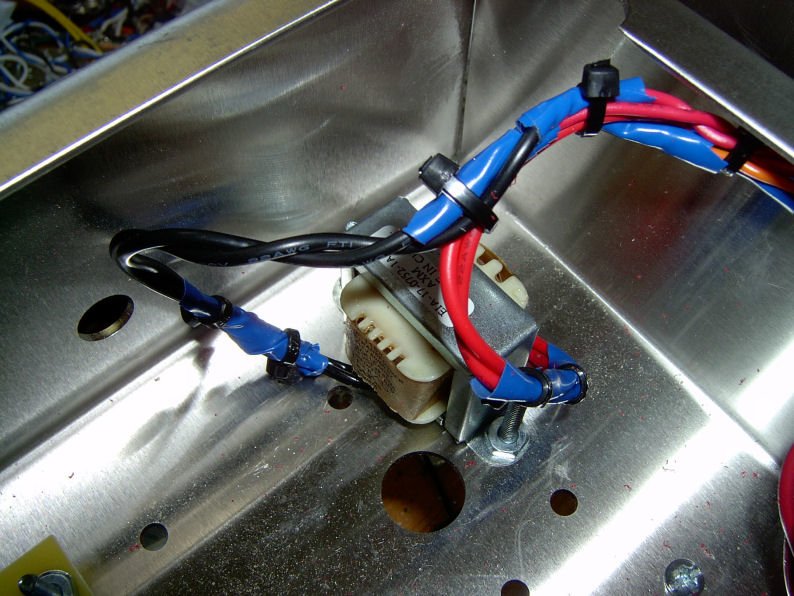 "The new KJL power supply is more compact. Also note all connections to the PS are soldered and have sufficient stress relief in the wires"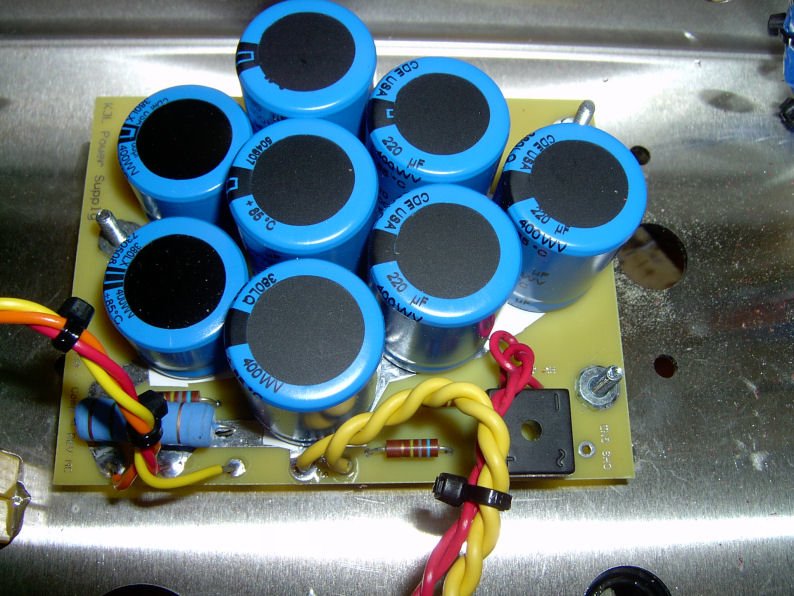 "We never stop looking for improvements in reliability, cost, and tone"

New CAD ("Solid Works" SW) designed stainless steel chassis

Improved bias stability for power amp

Class A/AB switch for tone, power, and reliability (if you lose a tube on the road, the class A cathode resistor will self-bias a new tube set until you get back to town for a tech adjustment)

---
"KJL is heavily involved in composites research. But until an equal material is found, we use only 3/4" birch ply for all of our cabinets"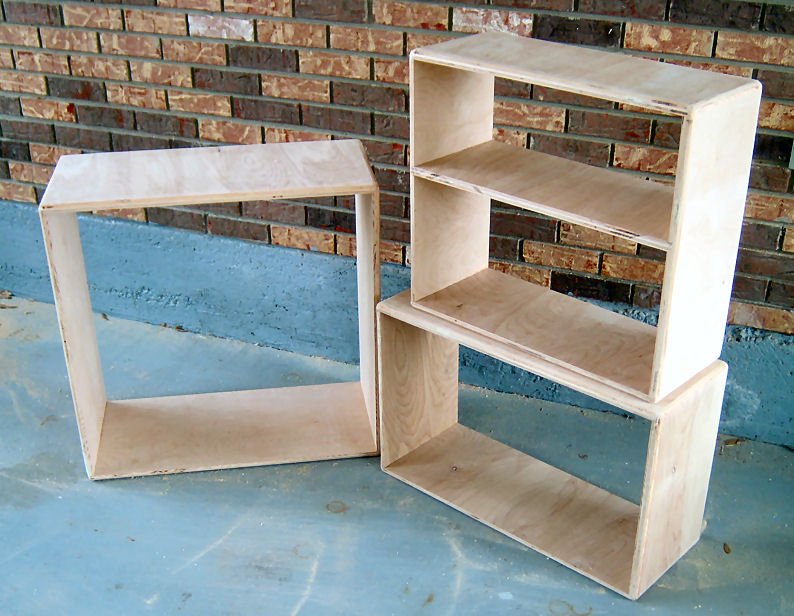 "KJL has moved to Stainless Steel chassis in order to resist corrosion and reduce the number of assembly steps in building an amp".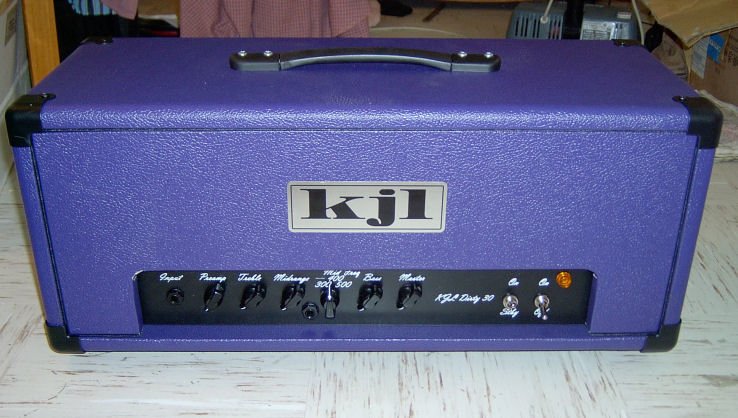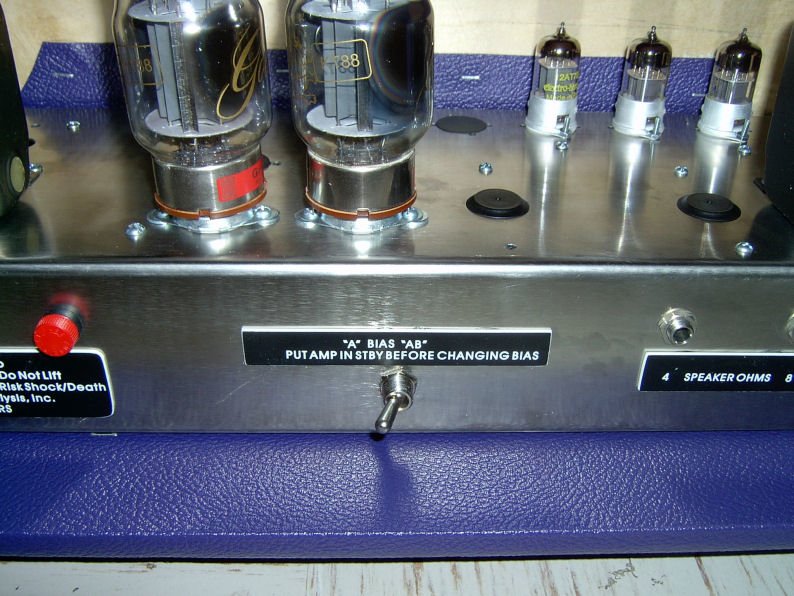 ---
"Reviews From Vintage Guitar Magazine !"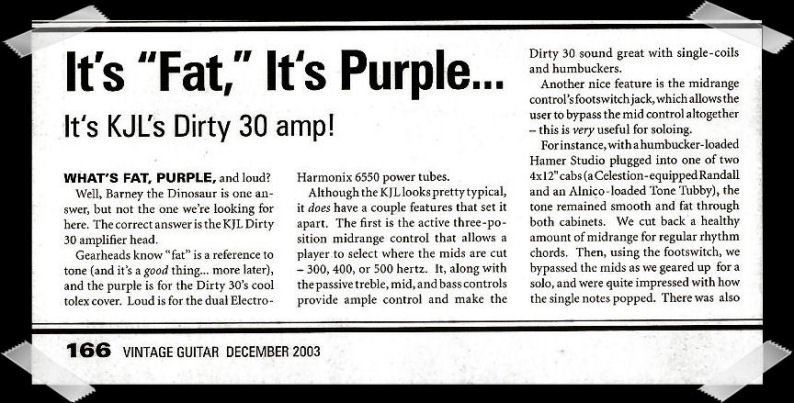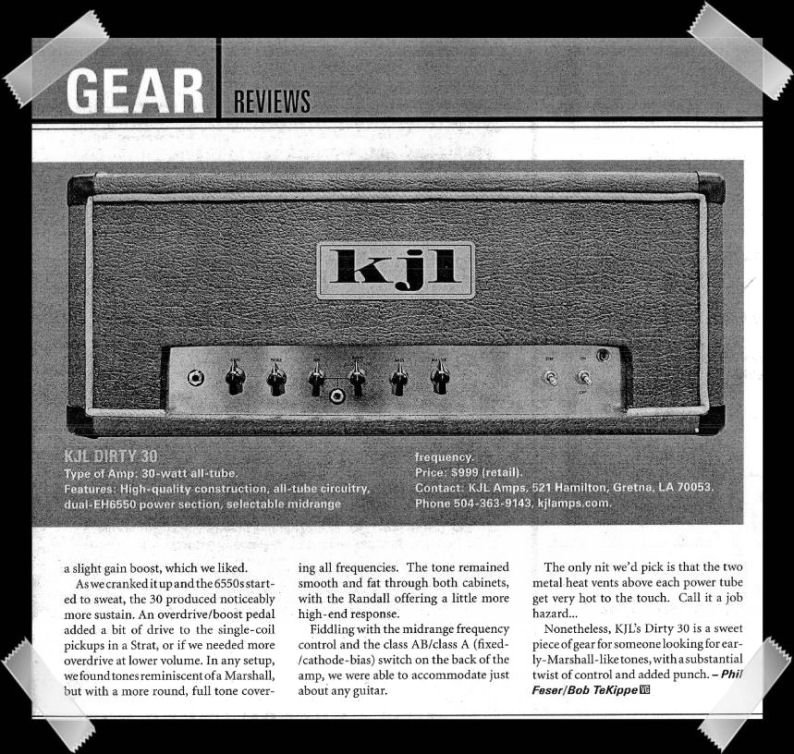 ---
TODO: Place holder for video that Kenny needs to upload to youtube.
---